North Coast Engineering & Mechanical were engaged by Davbridge in October 2020, we are continuing to do services for them to date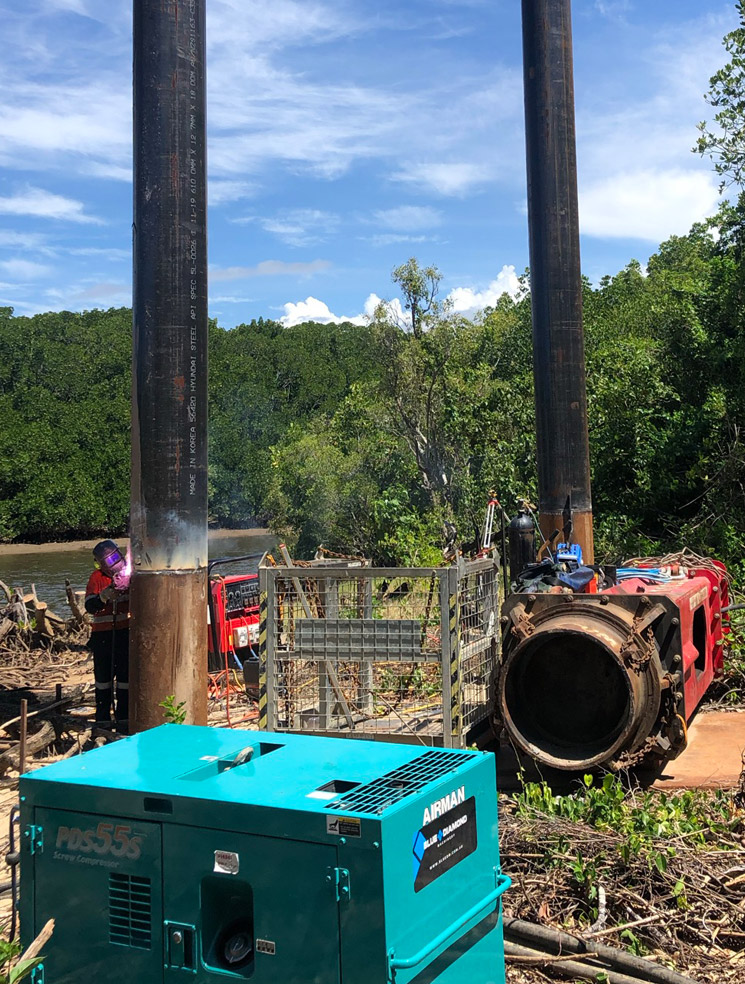 We provide them a service that includes site pipe welding and spud joining, structural steel fabrication and general fabrication of parts. The main scope of work for us is to join new sections of pipe once they are driven into the ground. Each pipe join has multi pass weld runs and a weld procedure that had to be met while welding. This part of the job is crucial for the work to proceed, also for the removal of piles when the job was completed. We fabricated a structure for the piles that had to be driven into the water ensuring that the piles were straight while being driven into the ground, this also became a safe work platform.
Davbridge had many processes that they use while driving in piles, however two processes that they were using here in Cairns were not working due to the ground's toughness. We got involved in solving the issues and came up with solutions to fix both problems, saving time and money for Davbridge. Part of this project is still current and Davbridge are achieving the set timeframes with our services.
We offer a wide range of repairs and services such as line boring, repairing plant and earth moving equipment and heavy equipment repair.
Our Cairns team is certified in a combination of welding procedures, from lifting points, crane boom repairs and structual repairs.
With our experienced boilermakers, we offer on-site boilermaking and plant and equipment repairs.
North Coast Engineering & Mechanical
Welding, fabrication, line boring & machining services